Annual Conference

The next CECA conference is due in Singapore, November 20-24 2023.
The main venue of the conference will be at the Asian Civilisations Museum, one of the national museums in Singapore.
Proposed theme "Museums: Shaping the Future of Education.
The conference will be held on site only. The presentations will be recorded and visible on YouTube.
Registration for attending the conference will be mandatory but free for ICOM members.
Conference package will include tea, closing party, workshops and excursions at no additional charges.
► ► ► ► Conference programme  <here>

You are not in Singapore, but you can follow the conferences in LIVESTREAM, from your computer, tablet or smartphone.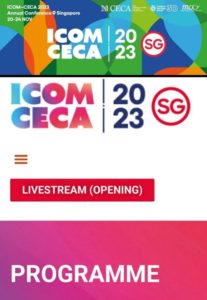 ► ► Click <on this link> to register and attend the Zoom

► ► Click on the "ICOM-CECA Annual Conference 2023" link under the Programme Overview below to access the full programme
► ► Information for the speakers  <here>

► ► Information for participants <here>
► ► ► ► Register now <here>

► ► To prepare for your trip to Singapore, please consult in advance all information related to the usual entry requirements (passport, visas, return ticket, etc.) and health restrictions which vary from country to country and change regularly.