Young members network and grants

Dear CECA members from all over the world, we would like to announce the creation of the CECA Young Members Network.
Are you between 18 and 35 years old?
Come and join students and young professionals in museum education from all over the world: for meetings, conversations, networking, workshops, competitions…
Monthly virtual sessions
Cooperation within the network, the awarding of the annual "CECA Young Member" prize, training, internships and other important issues within CECA and ICOM will be discussed in monthly virtual sessions.
The first session via Zoom will take place on Saturday, April 22, 2023 at 3pm (Paris time)
"What does the CECA do? Forms of participation of young members in our committee".
To receive the zoom link, don't forget to register <here>
https://forms.gle/v9mdKUccEjgr4hUx8
We hope you will join us.
►► Launch and participation in the CECA Young Member Award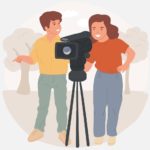 The CECA Young Members Award is open to ICOM CECA members between the ages of 18 and 35.
The 1200€ prize money is intended to cover the cost of your attendance at the 2023 annual conference in Singapore.
For the contest young CECA members will submit videos about educational activities proposed by these members within the framework of the International Day of Museums 2023 (May 18) on the theme of"Museums, sustainability and well-being".
These videos must be sent before August 1, 2023.
In MP4 format, horizontal 16:9, vertical 9:16
Their duration should not exceed 5 minutes
Send to:cymceca[at]gmail.com
Upcoming activities
May
Creation of a WhatsApp group CECA Young members
Second CECA Young Members meeting via Zoom, Saturday, May 27 at 3pm (Paris time): "Let's talk about the definition of the museum and its influence on our professional activities".
June
Third CECA Young Members meeting via Zoom, Saturday, June 24 (Paris time) at 3pm (Paris time): "Let's talk about museum education training. What would we need?"
With the participation of the SIG (CECA Special Interest Group) "Professional Development for Museum Educators."
Presentation of the ICOM Belgium/CECA program Virtual museum interpretation: a necessary adaptation of methods.
Pilot project for the creation of tutorials (video and pdf) to help educators set up and promote a virtual tour in an optimal way and adapted to different target audiences.
July to October
Workshop Programs to be determined
November
Meeting of the young members of the CECA during the annual conference in Singapore (20-24 November 2023) featuring the winner of the CECA Young Member Award and important themes for the network (Meeting in hybrid form, in person and online).